Abscond with Ethan Renoe will discuss the relevant issues of today. From pop culture to addiction to fitness, we'll try to cover the spectrum of what's on your mind. You are an important part of the discussion. So join us!
---
Ethan Renoe | Host
You might know Ethan as the shirtless runner who appeared on Chicago television during the evening news in a segment that went viral worldwide overnight!
What you might not know is that Ethan is a student of experiences — not necessarily of a specific institution or denomination, but of life and of the Lord Jesus Christ. He is an artist, a traveler, and a writer & author.
Ethan is also a personal trainer and photographer. He enjoys listening to music and watching movies. You can learn more about him at ethanrenoe.com.
---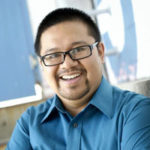 Mark Breta | Producer
Working at a pop music station then later producing a national radio talk show, Mark brings his experience to Abscond as coordinating and technical producer. He is also the co-creator of the podcast.
Along with being a freelance media producer, Mark is also a musician and recording artist. He also hosts his own video blog. Follow him at markbreta.com.
---
Steve Hiller | Co-Host, episodes 1-3
A seasoned radio personality, Steve joins the Abscond podcast as co-host. Previously hosting on Moody Radio, Steve currently serves as the director of media production for Unlocking the Bible and is the co-host of the ministry's radio program with Pastor Colin Smith. Learn more at unlockingthebible.org.
Steve lives with his wife Suzy and three children in the Chicago suburbs.